Thai Fisherman Pants by Thai Pants
a guide through our catalog
A fish pants for everyone
We at thai pants have one of the most complete selections of thai fisherman pants on the web. We guarantee that all our pants are made in Thailand.
On the right you can select our standard model made of lightweight but sturdy cotton. The pants gain extra stability with double stitched seams and are super comfortable thanks to the signature "J-seam" pattern around the butt.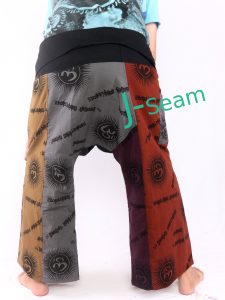 We can offer the pants for an incredible quality to price ratio as we work directly with the producers for a really long time now – resulting in a trust based relationship.
We recommend these pants for fisherman pants starters so you can experience the advantages of the fisherman pants and see if you dig the concept with an extraordinary fair price tag. After your first experiences with that pants style you maybe later love the pants shorter or longer depending on your style. Remember .. originally these pants are worn above the ankle but in colder climate zones it is natural that a "connoisseur" of the art of the fisherman pants would like to wear a longer pair on colder days and therefore falls in love with the longer versions of the pants we also offer in other fabric qualities.
Fisherman Pants made by Hmongh hilltribes
On our various trips through the hills of northern Thailand we had the opportunity to get in contact with various hill tribes who inhabitate the sometimes surreal and stunning landscapes above the skys. 
On the top of Doi Suthep around Chiang Mai we found a Hmongh Tribe and got to know Mr. Pii Yaa who produces thai fisherman pants from the so called "Paa Mueang" cotton with is in general thicker and heavier than the standard cotton. 
It is not fair trade certified but we think it directly contributes to a better living of the often sidelined hill tribes.
There are about seven major hill tribes in Thailand. 
The Karen, Akha, Hmong, Mien, Lahu, Lisu and Palaung. 
Check out for example this article to learn more about the different tribes.
We've seen some of them but often they are hard to recognize when they don't wear their traditional costumes. But when cruising through the hills of northern Thailand there is one thing hard to ignore. Nearly everybody wears a so called Yaam bag. On the right side you get a glimpse on how time consuming it might be when they are woven in the traditional way. Some of them have colorful embroideries, stitched by hand and we were told it can take up to 2 days or even longer until one bag is finished.
In fact we found, for example a handicrafts identity village where kids had weekly courses to learn the embroidery techniques. We wore a Yaam bag from another place and the teacher told us that she does not know how to do that specific technique.
Once again I like to link to an article form Jeff with more insight on the Yaam bag. Read on here
So these are definitely attainments worth to preserve for future generations.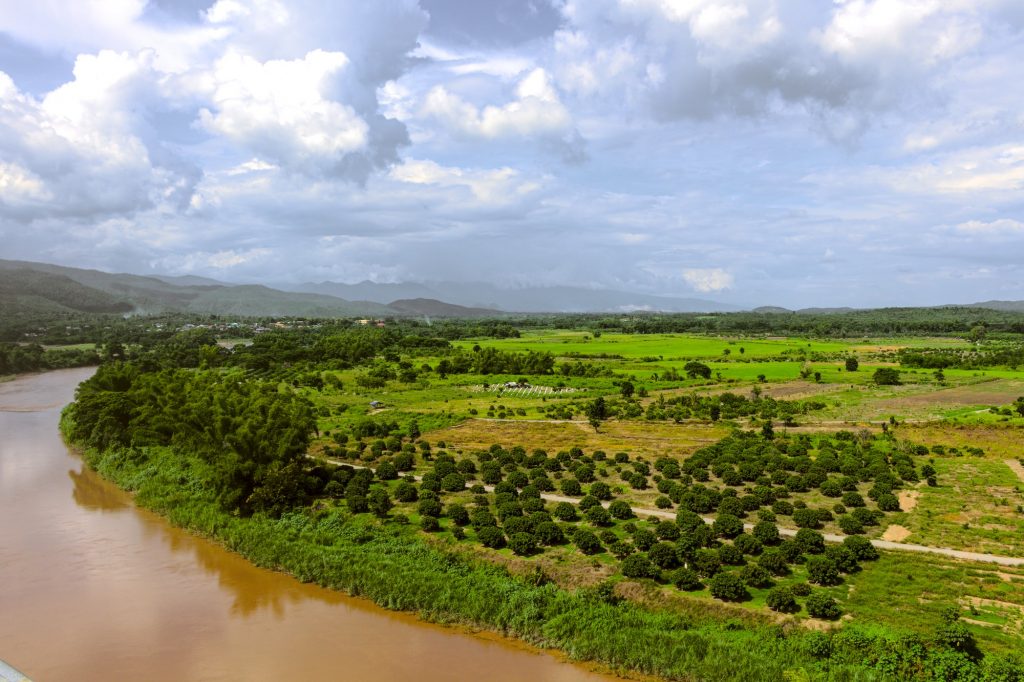 Here is a picture from "Hot" province with the "Ping" river in the foreground and the mountains from Op Luang national park in the back. You can find some "handicrafts identity villages" in that area that try to preserve for example traditional weaving techniques and dying methods like dying with plant and stone colors.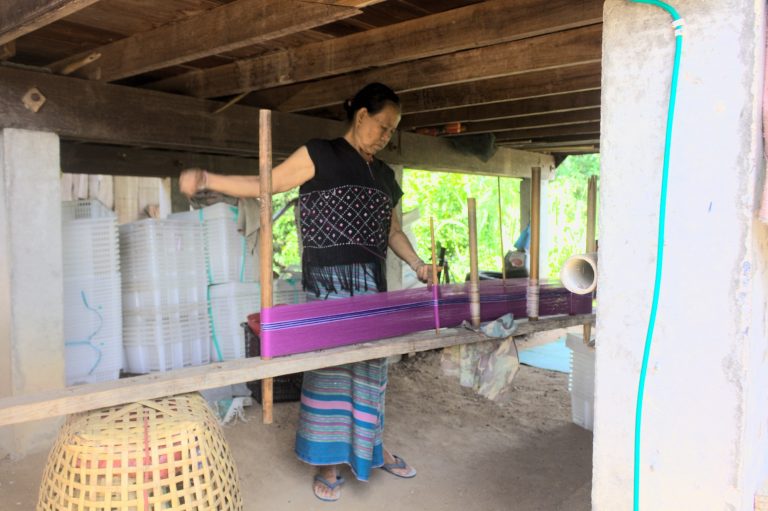 This is for example the weaving of a Yaam bag. Nearly everybody in north Thailand wears a Yaam bag. This is what a Yaam looks when it is finished proudly presented by Fonn, a member of the Karen hill tribes .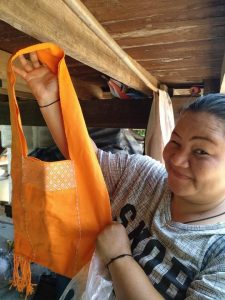 If you are looking for Thai fisherman pants with printed designs you may fall in love with our spiral print Thai wrap pants. 
They are available in 2 different sizes – large and extra large – and feature a durable full length spiral print on the left leg. The two color approach which distinguishes the waist from the rest of the pants gives the pants an extra fresh look. The hand painted style spiral ornaments are an archetype symbol for eternity in many different cultures giving the pants a spiritual vibe.
The used cotton is relatively heavy and sturdy with a wide ribbon to easily wrap the pants.
Thai Patchwork Fisherman Pants
Our bohemian inspired patchwork thai fisherman pants are made by Mr. Numm in a small manufacture in eastern Chiang Mai. We also maintain a years long relationship to Mr. Numm as we are thrilled by his unique designs paired with exceptional fabric qualities some of them reminiscing patterns form the seventies as spiral, coral, fish and floral print patterns just to name a few. We have them in 4 different sizes form shorts to extra large but all of them convince with their soft, sturdy cotton. 
Every pants is a unique combination of different patterns, stitched with the "J-Seam" and combined with taste – made by true artisans.